Baobab Resorts *****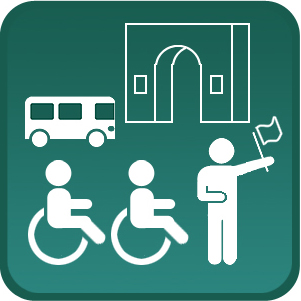 Features
Located in the heart of centre of Maspalomas / Meloneras
8 Swimming pools one with hoist and all heated
Exotic modern designing with exclusive equipments and African elements
Wide range of equipment, care and accessible excursions are possible
Is good starting point to visit restaurants, bars and shops
Meloneras, BAOBAB RESORT ***** (8 accessible rooms, max 2 adults)
Its spectacular architecture with a finely crafted wooden bridge across impressive water bodies leads to an exotic reception desk. Tropical gardens, several pools and ponds, waterfalls and sand beaches are just a part of the splendid facilities. The 677 spacious bedrooms and suites are an impressive blend of modern designing with exclusive equipments and African elements. Soft brown shades bathe the rooms in a distinctive light and create a unique atmosphere in which guests immediately feel at home.
General information
TThe entire hotel complex has barrier-free entrances, as well as 8 wheelchair accessible bedrooms complying with official standards and connected with each other. The amenities include alarm systems and other details such as special clothes hooks and hangers in the wardrobes. The bathrooms have wheel-in-shower and bathtub, shower seats, toilet with grab rails, hairdryer and bathrobe.
Gastronomy
Top quality and great creativity intends to be the characterizing concept of the complex.
Particular attention has also been paid to the interiors of the restaurants. In the buffet restaurants, areas harmoniously separated from each other create an intimate and cosy atmosphere.
Pool landscape
The impressive pool landscape comprises eight different pools (all heated), which are integrated harmoniously into the Africa-style surroundings and offer refreshment and relaxation for young and old: Starting by a first relaxation pool, a second pool with two artificial beaches, a slow river pool with a width of 7 m, a "Totem" pool in an area of 1000 m2 and an African fire tower in the middle, further pools with waterfalls, water caves and ruins follow.
Leisure:
A broad program of entertainment ensures there is something for everyone to do from the numerous activities during the day to spectacular fire shows or African dance performances in the evening.
Included services
Accuatic play ground
Adapted access to the swimming pool for people with reduced mobility
Bell boy
Bus transfer to Lopesan Meloneras Golf and Maspalomas Golf
Cash dispenser (in the surroundings)
Entertainment
Gym
Miniclub
Minidisco
Nighttime security
Parasols, towels and sunbeds
Play ground
Public Relations
Reception 24 hours
Reservation of boat and flight tickets (we print the boarding cards without charge)
Sending mail, fax, telegrams
Babysitter service
Booking and discounted Green Fees for our guests in Lopesan Meloneras Golf and Maspalomas Golf
Congresses, conferences and events organization
Currency exchange
Cyber-Corner
Hairdresser with beauty treatments and massage
Internet in the room
Kiosk
Laundry service
Medical service
Order a bouquet of flowers
Parking (12€/day)
Rent a car
Reservation of audiovisual equipment for congresses, conferences and events
Reservation of excursions
Reservation of shows
Room service (5.00€ extra charge)
Safe for rental (2,50€/day)
Several rooms for congresses, conferences and events
Souvenirs shop
Transfer service
WiFi in common areas
The equipment of these rooms includes emergency call devices, special furniture and additional details like hooks and special hangers in the wardrobe. The bathrooms incorporate shower cabins without barriers, shower chairs, support bars and handrails, free space under the sink, etc. The adapted rooms also have a door that connects with the adjacent room.
The double standard room 34m²:
Air conditioning
Double bed 2 x 1m
Balcony or terrace
Bathroom with bath and shower
Hair dryer
Desktop
High definition TV
Direct telephone
High speed internet access (additional charge)
Rental safe
Minibar (charge according to consumption)
Important dimensions:
Number of accessible rooms8 with bedrooms
Lift width and depth 108 x 185 cm
Room door width 90 cm
Bathroom door width 89 cm
Bed height 57 cm, Distance floor/bed base 12 cm
Toilet height and shower seat 47 cm
Toilet grab rails 70 cm, distance between 72 cm
Sink high 85 cm, free space below 67 cm
Optional accessories
Manual/Electric wheelchair
Scooter
Electric bed (incl. monkey pole and cotsides)
Electric hoist
Monkey pole
Cotsides
Air mattress (anti decubitus)
Shower/toiletchair (commode)
Raised toilet seat
Rollator / Walking frame
Home care
Home and medical care can be arrange.
On the island is also a dialysis Center that is open for tourists.

Why not experience some of the most beautiful spots in Gran Canaria?
Mogán route
The Village and Port of Mogán are amongst the most beautiful and tranquil the places of the island. The first stop-off point is the village, where you will be able to enjoy a leisurely mid-afternoons walk. The second stop takes us to the Port where – no doubt – you will soak up the atmosphere of the harbour.
Vegueta route
This historic walk begings in front of the Cathedral in Santa Ana Square. We will start next to the figures of the bronze dogs, the popular Canarian dog.
Triana route
We will start our visit to Triana by enjoying a walk through the popular San Telmo Park. Come with me…
City Garden-Path Alcaravaneras route
Our tour begins in the recently redesigned Doramas Park. Let us walk together through its serpentine paths while I explain…
Historic Quarter of Agüimes
Our historic visit of the "Villa de Agüimes" (the Village of Agüimes) will last approximately one hour. Before we start our walk through Agüimes I would like to give you a brief outline of its history…
Faro de Maspalomas
Before placing our backpack on our shoulders, we should take a look at our route so that we know where we are starting from…

General information Gran Canaria
Capital: Las Palmas de Gran Canaria – population: 370.000
Area: 1.529,9 Km²
Altitude: 1.949 meter, Pico de las Nieves
Vliegduur: around 4 our and 30 min.
Maspalomas (BAOBAB RESORT)
Maspalomas is situated on the south coast about 2 Km west of the livelier Playa del Inglés and about a 40 minute drive from the airport. The resort has a 6 kilometres long beach that is one of the biggest and most beautiful on the island. Accommodation is mainly apartments with a couple of nice hotels. Nearby is a large oasis with dense vegetation consisting of palm trees and salt marsh brushwood. Next to the oasis there is a small lagoon. The housing developments include hotels, bungalows, sports grounds, etc. which have been nicely developed. Two kilometres west of the Maspalomas lighthouse, there is Pasito Blanco beach with a yacht harbour and a tourist centre. Maspalomas offers an exiting all-year-round holiday destination aimed mainly at families. The resort has all the usual tourist attractions including a 18-hole golf course, Go-carting and two nice water parks. There are plenty of shops, restaurants, bars and cafes. Surprisingly, Maspalomas isn't as noisy as you would expect.
Meloneras (GRAN HOTEL MELONERAS)
Is a high class holiday resort located on the southern outskirts of Maspalomas and Playa del Ingles on the south coast of Gran Canaria. It is approximately 30 minutes from Las Palmas airport. Its tourism standards are up-market with mainly excellent accommodation and a refined nightlife centered on its fine restaurants.
Playa del Inglés (APARTHOTEL GREEN FIELD,Hotel Ifa Buenaventura, PARQUE CRISTOBAL)
Situated about 30 minutes drive from the airport, Playa del Inglés offers a superb beach of very fine, golden sand, gently leading to an always blue, peaceful sea. Playa del Inglés is a large development with hotels, apartments, bungalows and villa's. Playa del Inglés is by far the liveliest resort on the island and is a honey pot for the young and lively crowd. There is a vast area of shops, bars, clubs and restaurants to cater for the tourist. We would not recommend Playa del Inglés for those who are looking for a quiet and peaceful holiday, because of the buzzing night life and the many young people.
Puerto Rico (HOTEL MARINA SUITES)
Puerto Rico is around 50 minutes drive from the airport and is a modern development with apartments, hotels, villas and bungalows. The town is encircled by hills and has one of the best sunshine records on the island. The main attraction is its beautiful man-made beach with lovely soft sand imported from the Sahara. The beach has a gentle slope to the sea and is therefore ideal for young children. The majority of Puerto Rico is very hilly with more steps than you could ever count. It would therefore be unsuitable to those who are less mobile and to young children in buggies, unless you know exactly where you are staying. The resort also offers mini golf, floodlit tennis, water park, a bowling alley and two yacht harbours with a choice of many boat excursions like sport fishing and a pirate trip. The resort has great shops, bars and restaurants where most late-night entertainment takes place. The area of main shopping centre is a bit noisy but the beach area is very quiet.

Pricing and booking options
Mobility transfer (If you wish, by wheelchair) at the airports
Flight price depending on airport and the time of year from € 200,– till € 500,– per person
You are allowed to bring your own mobility equipment like wheelchair, Hand-Bike, etc.(max 2) and medical luggage up to 15 kg free of charge
(doctors declaration not older than 3 weeks needed)
Wheelchair Transfer for 1 – 2 persons from and to the airport to your hotel € 150,–
Stay in room with , max.2 adults (see table)
Breakfast or half board is possible
24-Ours-hotline for trouble assistance at your holiday
Booking fees €25,-, airport tax and local tax