Golf Challenge 2017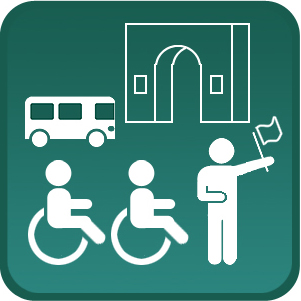 [thethe-image-slider name="Golf"]
Features
18 hols golf course is situated directly at the sea
Beautiful beaches and nature
Always a nice breeze and sea temp.30°C
Wheelchair transfers and excursions
Rent of homecare and mobility equipment
Book now for the One Happy Golf Challenge 2017
De Aruba Tourism Authority (A.T.A.) has started a partnership in 2016 (through sponsorship) with the foundation Batouwe Minder Valide Golf (BMVG) through joint effort to raise awareness for disabled golfers. In 2016 has the A.T.A. during a special golf day for people with physical disabilities, selected 5 winners to travel to Aruba in 2017 to participate in a disabled golf tournament on the island.
The trip will take place from April 29 till May 7, 2017 it now is possible to join this competition as a participant or as a supporter to be part of this 3 days golf tournament on the happy island of Aruba.
Especially for this unique opportunity Challenge Resorts & Travel offers the possibility to join this golf event for non-disabled and disabled golfers.
Aruba Golf Pilot from 29 April till 7 May 2017
Direct flights that we can arrange for you and are possible from:
Toronto, Baltimore, Boston, Chicago, Fort Lauderdale, Houston, Miami, Newark, New York, Philadelphia, Charlotte, Washington,
Amsterdam, London, Manchester,
Bonaire, Curacao, Las Piedras, Santo Domingo, Maracaibo, Panama City,
$ 209,- Holiday Inn hotel room per day for max. 2 Ad. and 2 kids <12 jaar
$ 25,- Breakfast per person a day
$ 75,- wheelchair transfers 4p. per ride airport < => hotel
$ 60,- wheelchair transfers 4p. per ride hotel < => green
$ 10,- Standard transfers for 1 person per ride
$ 125,- Green fee to participate in the tournament
Upgrades
Flight with more leg space or bussnessclass
$ 315,- Standard or adapted room with partly sea view per day
$ 339,- Standard room with sea view per day
$ 60,- Halfboard per person a day
$ 55,- 3rd. person older then 12 year in the room per day
$ 85,- Havanna's dinner Cruise
The costs associated with your stay on Aruba are in US dollars.
In Hotel Holiday Inn, General information
4 star hotel
600 rooms/apartments with 5 rooms adapted for wheelchairs
Voltage 110 volt
Location: holiday resort environment, lively environment and directly on the beach
Center of Oranjestad 6 km away
Public parking facility nearby
Public bus stop located nearby
Good to know about Hotel Holiday Inn Resort Aruba
You need to pay a deposit of US$ 100 upon arrival in cash or by credit card.

Facilities of the Hotel
Parking facility: Public parking facility outside, free
Reception:
VISA, EuroCard/MasterCard, Diners and American Express are accepted,
currency exchange and ATM
Internet facilities
Grocery shops
Laundry service
Launderette (self service)
Food and drinks
4 restaurants
3 bars
1 snack bar
Swimming pool
Outdoor swimming pool
Outdoor swimming pool for children
Sun terrace, Sun beds, Parasols, Towel service
Sport en entertainment
Entertainment during the day
Entertainment at night
Sports: tennis, table tennis, volleyball and basketball
Water sports (against a fee): kayak and water bicycles
Fitness
Fitness/aerobics area
Diving facilities (5-star PADI)
Wellness facilities in Hotel Holiday Inn Resort Aruba
Sauna, massage and spa/ Thalassic facility
Beauty salon
Children
Kids club: games room and play garden, toddlers pool
Baby facilities: babysitting service available (extra charge)
The Golfsport in Aruba offers disabled people new opportunities with Power Golfer to enjoy golf in tropical conditions.
18 holes golfcourses on Aruba
Hit a ball overlooking the sea and the island. The beautiful surroundings and the perfect golf weather – all year round – make Aruba a popular golfing destination. At the Tierra del Sol golf courses (18 holes) you can improve your stroke pros and beginners can take a first lesson. Treat yourself to a golf holiday and book your holiday today.
Golf is good for health, and provides opportunities for Cardiovascular exercise
A golf game takes about 4 hours. During these four hours you burn about 1,200 calories. A walk around the 18-holes corresponds to a trip of 5-6 kilometers. Golf is a quiet sport that promotes coordination ability. Each wheelchair user must do a daily 30-minute sit up during the rehabilitation. By playing golf you do that automatically. This exercise prevents the calcification of the joints (arthritis), stimulated the vascular flow and digestion and stretched ligaments and tendons.
Training of the muscles
When you hit the ball, you use 124 of the 434 body muscles. So you train the whole body.
Reducing stress
Relax in nature by practicing sports. This makes you less susceptible to stress. The doctors believe that golf has a positive impact on mental ability.
Concentration
The mental strength is important when playing golf. The player knows that he must keep his composure to go for the ball in the hole. Every shot and every success makes you more confident.

Power Golfer is an electric terrain wheelchair. The user can get up on the golf field independently and without additional help. With four special wheels the player has no problems with obstacles like sandhope. The sturdy chassis handles slopes up to 30 ° and lateral slopes up to 20º. When the wheelchair is in a dangerous corner the chair turns itself automatically in a secure position so that it can not flip over. The chair is easy to drive. With a knob, you can adjust the vertical position.

Medical assistance and care facilities
On the island of Aruba, home and medical care and self dialysis are among the options.
You can make use of an extensive package of care and help instruments, such as an electrical high/low bed, a weight lift, a beach wheelchair and many more options.
Also taking diving therapy or lessons are among the possibilities.

Excursions and activities
There are various daily, challenging excursions, including a spectacular flight by helicopter with a fantastic view of the island, deep sea fishing, introduction to diving, enjoying the peace and quiet and the amazing butterfly activities in the butterfly farm and much more.…
Transport
Wheelchair taxis; tricycles, quads and touring cars can be booked. A three or four wheel mobility scooter, electrical or ordinary wheelchairs can be reserved for you. Your mobility therefore has not to be an impediment.
Enjoy the underwater life on Aruba

Butterfly Farm: watch the video of the wheelchair and scooter accessible butterfly farm in Aruba.

Imagine for by a tropical rain forest to go surrounded by trees, flowers, over bridges and under waterfalls. Everywhere butterflies flying around you, where a butterfly paradise. Hundreds of different species of butterflies can be found, including the most unusual ones in the world!
Diving for handicapped!

This amazing training offers a new alternative option to improve your mental and physical condition.

Population
Arubans are very friendly and above all focused on the American way of life. They speak mostly Dutch, English, Spanish and Papiamento.
Electricity
110 Volt; an adapter comes in handy.
Food and drink
There are very many different eating options on Aruba, from European to Chinese. Try a delicious pastechi (puff pastry) with chicken. You can also drink very sweet lemonade drinks like Grape (purple), Cherry (red) and Pineapple (yellow). The local beer on Aruba is Balashi Beer. The tap water is good and drinkable.
Financial matters
Aruba has its own currency, the Aruban florin, mostly used by the local population. Tourists mostly pay with American dollars. There are many places where you can change Euros into US dollars. ATM's can mostly be found in the various shopping malls in Oranjestad. Credit cards are accepted almost anywhere.
Climate
Tropical climate; a lot of sunshine and a cooling north-east trade wind. Average temperature is 30°C.
Time difference
Aruba is GMT/UTC Offset – 4h, Aruba does not utilize Daylight Saving Time.
Transport
The public transport on Aruba is provided by Arubus (regular service). The bus station in Oranjestad is the central hub/transfer point. Early 2013, a (local) streetcar line in Oranjestad will be put into operation.
The taxis charge according to set prices. Car rental is possible in many locations. The main roads are mostly paved in the western part of Aruba. In the hinterland (kunuku) the roads are not paved. On the island of Aruba, cars drive on the right hand side of the road.