Renaissance Aruba Resort ****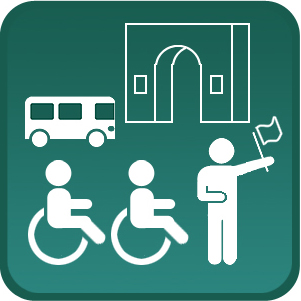 [thethe-image-slider name="Aruba-Radisson-Resort"]
Features
All inclusive luxurious and unique resort
Located in the center of Oranjestad
Private island with large beach
Rent of home care and mobility equipment
Renaissance Aruba Resort & Casino
The sparkling Renaissance Aruba Resort & Casino is an ideal place to stay on the island of Aruba. Spacious guest rooms are characterized by the colonial West-Indies decoration with tropical Caribbean finish and spacious balconies or private patios with teak furniture. The luxurious hotel has 8 wheelchair rooms.

General information
4/5 star hotel
556 rooms/suites with 8 rooms adapted for wheelchairs
Location: In the center of Oranjestad, lively environment and on the promenade
Good to know about Renaissance Aruba Resort & Casino
The Renaissance Island is accessible for free for Renaissance guests
you can make use of the shuttle boat that will bring you to the island in ten minutes
the minimum age for a stay in the Renaissance Marina Hotel (room, island and ocean room) is 18 years
the Renaissance Ocean and Island suites are suitable for families with children
Facilities of the Hotel
Covered private parking place, extra charge
Reception:
VISA, EuroCard/MasterCard, Diners and American Express are accepted,
currency exchange and ATM
High-Speed Internet facilities
Grocery shops
Laundry service
Launderette (self service)
Swimming pool
Outdoor swimming pool
Outdoor swimming pool for children
Sun terrace
Sun beds
Parasols
Towel service
Sport and entertainment
Entertainment during the day
Entertainment at night
Sports: tennis, Windsurfing and water skiing
Water-sports (extra costs): kayaking and water-biking
Fitness
Fitness/Aerobics lessons
Children
Kids club
Baby facilities: babysitting service available (extra charge)
Food and drinks
All Inclusive
Breakfast
Lunch
Dinner buffet
Dinner a la carte
Mineral water, Soft drinks and Alcohol free cocktails
Coffee and tea
Local alcoholic beverages
Beer, Wine and imported alcoholic beverages
Beach volley
Snorkel equipments
Medical assistance and care facilities
On the island of Aruba, home and medical care and self dialysis are among the options.
You can make use of an extensive package of care and help instruments, such as an electrical high/low bed, a weight lift, a beach wheelchair and many more options.
Also taking diving therapy or lessons are among the possibilities.

Excursions and activities
There are various daily, challenging excursions, including a spectacular flight by helicopter with a fantastic view of the island, deep sea fishing, introduction to diving, enjoying the peace and quiet and the amazing butterfly activities in the butterfly farm and much more.…
Transport
Wheelchair taxis; tricycles, quads and touring cars can be booked. A three or four wheel mobility scooter, electrical or ordinary wheelchairs can be reserved for you. Your mobility therefore has not to be an impediment.
Population
Arubans are very friendly and above all focused on the American way of life. They speak mostly Dutch, English, Spanish and Papiamento.
Electricity
110 Volt; an adapter comes in handy.
Food and drink
There are very many different eating options on Aruba, from European to Chinese. Try a delicious pastechi (puff pastry) with chicken. You can also drink very sweet lemonade drinks like Grape (purple), Cherry (red) and Pineapple (yellow). The local beer on Aruba is Balashi Beer. The tap water is good and drinkable.
Financial matters
Aruba has its own currency, the Aruban florin, mostly used by the local population. Tourists mostly pay with American dollars. There are many places where you can change Euros into US dollars. ATM's can mostly be found in the various shopping malls in Oranjestad. Credit cards are accepted almost anywhere.
Climate
Tropical climate; a lot of sunshine and a cooling north-east trade wind. Average temperature is 30°C.
Time difference
Aruba is GMT/UTC Offset – 4h, Aruba does not utilize Daylight Saving Time.
Transport
The public transport on Aruba is provided by Arubus (regular service). The bus station in Oranjestad is the central hub/transfer point. Early 2013, a (local) streetcar line in Oranjestad will be put into operation.
The taxis charge according to set prices. Car rental is possible in many locations. The main roads are mostly paved in the western part of Aruba. In the hinterland (kunuku) the roads are not paved. On the island of Aruba, cars drive on the right hand side of the road.

Enjoy Aruba
Butterfly Farm: watch the video of the butterfly farm on Aruba with easy access for wheelchair and scoot moped.

Imagine passing through a tropical rain forest surrounded by trees, flowers, over small bridges and underneath waterfalls. You are surrounded by butterflies, a true butterfly paradise. Hundreds of different species of butterflies can be found, including the rarest species in the world!
Excursion
A guide will take you along and show you the path of life of a butterfly. From minute eggs to strange exotic caterpillars, to true butterflies like jewels…….
Diving for the handicapped!

This incredible training opportunity offers a new alternative method to improve the mental and physical condition.