Dutch day trips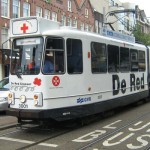 Wheelchair tour in Amsterdam
Especially for wheelchair users and seniors with mobility restrictions.
Sightseeing Amsterdam with the Red Crosser tram and visit the Artis Zoo from € 35,- per person.
Enjoy and watch the video.
Day trip Keukenhof flower tour (21 March till 20 May)
The place where spring yearly comes to life and where it buzzes with activities.
Here you can enjoy more than 7 million flowers. All locations on the Keukenhof are barrier-free, with disabled toilets and easy accessible by wheelchair or mobility scooter.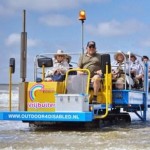 Day trip Sea, beach and water at Noordwijk beach
Especially adapted transport of chronically ill and disabled people.
Price starting from € 20,- per person.
Beach wheelchair is also available.
Enjoying romantic trip on our electrical boat (maximum weight 1,000 kilograms)
Ever dreamed of the best day of your life? What to think of an unforgettable Kaag experience.
Spend the day alone or together with your friends on the water at one of the most beautiful spots in the Netherlands.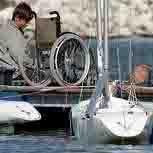 Sailing for disabled people "anyone can sail!"
Even if you have a physical or mental disability, sailing for you is possible.
Did you always wanted to try sailing? Would you like to meet with our fabulous Dutch water sports?