Hotel Ifa Buenaventura ***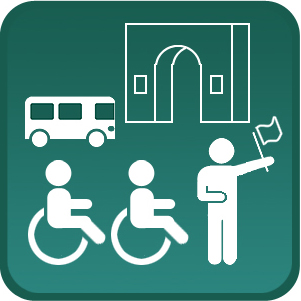 Features
Located in the heart of Playa del Inglés
Only a few minutes from the beach
Wide range of equipment, care and accessible excursions are possible
Is good starting point to visit restaurants, bars and shops
Playa del Ingle's, Hotel Ifa Buenaventura *** (6 accessible units with double bedrooms, max 3 adults or 2 + 2 children 0 – 11,99 Y.)
This hotel has 724 spacious standard double rooms and is excellently situated in a lively zone very close to the center, only a few minutes from the beach and 300 meters from a prominent shopping and leisure center. The hotel is extremely well equipped with many facilities, the hotel offers all that is needed to enjoy full and comfortable entertainment holidays in an extraordinary environment.
General information
With 8 perfectly communicated floors through 9 lifts, the IFA Buenaventura Hotel has 724 spacious standard double rooms, all recently furnished and equipped with single or double beds, a lounge and sofa bed for a third person if needed. The rooms also have a complete bathroom, a large balcony (also furnished), rental satellite TV with free and pay channels, hairdryer, direct telephone line, musical thread, a safe available to rent and security locking doors. There is also the possibility of including a mini-fridge in your room (at an extra charge).
In the hotel you find:
24 hours reception
TV room with flatscreen TV
Services with charge
Medical service
Currency exchange
Car hire
Beauty salon
Hairdresser
Jeweller
Souvenir shop
Boutiques and shops
Newspaper and magazine kiosk
Internet corner
Conference room with capacity for 70 people
Oriental health center (with Thai massage) for relaxation
"All inclusive" offer which starts at 12.00 hrs. on the day of your arrival and ends at 12.00 hrs. of your departure day.
Breakfast Buffet: La Guitarra Restaurant 08.00 – 11.00 hrs.
Snacks: Picnic Snack bar 11.30 – 12.30 hrs.
Lunch Buffet: La Guitarra Restaurant 13.00 – 15.00 hrs.
Coffee & Pastry: Picnic Snack bar 15.30 – 17.00 hrs.
Dinner Buffet: La Guitarra Restaurant 18.30 – 21.30 hrs.
Sandwiches: Picnic Snack bar 22.00 – 23.00 hrs.
All Inclusive drinks are served from 11.00 to 23.00 hrs. Our bars with All Inclusive service have the following opening hours:
Banana Bar 11:00 – 18:00 hrs.
Picnic Bar 11:00 – 23:00 hrs.
Mon Chéri Bar 19:00 – 23:00 hrs.
Honolulu Bar 11:00 – 23:00 hrs.
Remark: The English Pub, Freddy´s Bar, Meeting Bar and Ozono Disco DO NOT offer "All Inclusive" service.
Lunch and dinner include the following drinks: Mineral water, soft drinks, fruit juices, draught beer and house wine.
In our bars and restaurants you may order local Spanish drinks with or without alcohol, coffee, tea and herbal teas.
Drinks included in the "All inclusive" service are those of our "All inclusive" drink list; the "All inclusive" drink offer consists of basic local brands.
If you wish to order superior brands you will be charged for them according to the rates of our official drink list applying an additional discount.
Additional information on our `All Inclusive` service
Upon arrival the reception desk will provide you with a bracelet so that you may be identified as an "All Inclusive" guest. You are requested to wear it during your whole stay. All the persons included in a booking or in the case of group reservations all group members must have the "All inclusive" arrangement.
Our "All inclusive" service only corresponds to the above mentioned sales points and service times and it is an exclusive service for persons who have booked this alternative arrangement. If you wish to invite someone who has booked a different arrangement, you will be charged for it according to the prices of the official bar list.
It is not allowed to take food and drinks away from the sales points (both must be consumed in our restaurants and bars).
To serve alcoholic drinks to minors (persons under 18) or to let them consume alcohol is strictly prohibited by law.
Our "All inclusive" service does not include neither wine and/or drinks of special brands from our menus or drink lists, nor long drinks and cocktails. In case you wish to have this type of drink or order food and drinks outside the established "All inclusive" service times, you will be charged for them right away.
Not included in the "All Inclusive" services are:
Safe rent and deposit.
Fee for pay TV channel packages.
Traditional superior drink brands.
Game machines with charge, Wi-Fi internet connection.
Other upgrades of rooms and/or services, regarding accommodation and board (information at the hotel`s reception desk.)
Pool towel deposit and rent.
Costs for tennis court rent and tennis school, massages, fitness, facilities and scuba-diving school, as well as other additional services which are published in the general hotel leaflet as services with extra charge.
Animation
Animation program in several languages
Professional night shows
Live music, disk jockey or karaoke in the evening hours
Sports activities
Table tennis
Waterpolo
Shuffleboard
Multifunctional sports field (adaptable for football,volleyball, basketball, hand ball, etc.)
Sports field with sand for Beach volleyball
Water gym
Activities with extra charge
Diving for various levels
Gym
Billiard and darts
Tennis lessons on the 3 tennis courts with artificial grass and quartz sand
The bungalows:
Living room and one or two bedrooms
Kitchen with fridge, microwave, toaster, coffeepot and kettle
Bathroom with wheel-in shower, wall mounted shower seat and toilet with grab rails and hairdryer
Airconditioning
Telephone, satellite TV and safe to hire
A mobility scooter can be charged on the room
Important dimensions:
Number of accessible units 6 with double bedrooms
Lift width and depth 72 x 130 cm
Room door width 80 cm
Bathroom door width 78 cm
Bed height 50 cm, Distance floor/bed base 15 cm
Toilet height and shower seat 45 cm
Toilet grab rails only on left site65 and 78 cm
Sink high 85 cm, free space below 67 cm
Optional accessories
Manual/Electric wheelchair
Scooter
Electric bed (incl. monkey pole and cotsides)
Electric hoist
Monkey pole
Cotsides
Air mattress (anti decubitus)
Shower/toiletchair (commode)
Raised toilet seat
Rollator / Walking frame
Home care
Home and medical care can be arrange.
On the island is also a dialysis Center that is open for tourists.

Why not experience some of the most beautiful spots in Gran Canaria?
Mogán route
The Village and Port of Mogán are amongst the most beautiful and tranquil the places of the island. The first stop-off point is the village, where you will be able to enjoy a leisurely mid-afternoons walk. The second stop takes us to the Port where – no doubt – you will soak up the atmosphere of the harbour.
Vegueta route
This historic walk begings in front of the Cathedral in Santa Ana Square. We will start next to the figures of the bronze dogs, the popular Canarian dog.
Triana route
We will start our visit to Triana by enjoying a walk through the popular San Telmo Park. Come with me…
City Garden-Path Alcaravaneras route
Our tour begins in the recently redesigned Doramas Park. Let us walk together through its serpentine paths while I explain…
Historic Quarter of Agüimes
Our historic visit of the "Villa de Agüimes" (the Village of Agüimes) will last approximately one hour. Before we start our walk through Agüimes I would like to give you a brief outline of its history…
Faro de Maspalomas
Before placing our backpack on our shoulders, we should take a look at our route so that we know where we are starting from…

General information Gran Canaria
Capital: Las Palmas de Gran Canaria – population: 370.000
Area: 1.529,9 Km²
Altitude: 1.949 meter, Pico de las Nieves
Vliegduur: around 4 our and 30 min.
Maspalomas (BAOBAB RESORT)
Maspalomas is situated on the south coast about 2 Km west of the livelier Playa del Inglés and about a 40 minute drive from the airport. The resort has a 6 kilometres long beach that is one of the biggest and most beautiful on the island. Accommodation is mainly apartments with a couple of nice hotels. Nearby is a large oasis with dense vegetation consisting of palm trees and salt marsh brushwood. Next to the oasis there is a small lagoon. The housing developments include hotels, bungalows, sports grounds, etc. which have been nicely developed. Two kilometres west of the Maspalomas lighthouse, there is Pasito Blanco beach with a yacht harbour and a tourist centre. Maspalomas offers an exiting all-year-round holiday destination aimed mainly at families. The resort has all the usual tourist attractions including a 18-hole golf course, Go-carting and two nice water parks. There are plenty of shops, restaurants, bars and cafes. Surprisingly, Maspalomas isn't as noisy as you would expect.
Meloneras (GRAN HOTEL MELONERAS)
Is a high class holiday resort located on the southern outskirts of Maspalomas and Playa del Ingles on the south coast of Gran Canaria. It is approximately 30 minutes from Las Palmas airport. Its tourism standards are up-market with mainly excellent accommodation and a refined nightlife centered on its fine restaurants.
Playa del Inglés (APARTHOTEL GREEN FIELD,Hotel Ifa Buenaventura, PARQUE CRISTOBAL)
Situated about 30 minutes drive from the airport, Playa del Inglés offers a superb beach of very fine, golden sand, gently leading to an always blue, peaceful sea. Playa del Inglés is a large development with hotels, apartments, bungalows and villa's. Playa del Inglés is by far the liveliest resort on the island and is a honey pot for the young and lively crowd. There is a vast area of shops, bars, clubs and restaurants to cater for the tourist. We would not recommend Playa del Inglés for those who are looking for a quiet and peaceful holiday, because of the buzzing night life and the many young people.
Puerto Rico (HOTEL MARINA SUITES)
Puerto Rico is around 50 minutes drive from the airport and is a modern development with apartments, hotels, villas and bungalows. The town is encircled by hills and has one of the best sunshine records on the island. The main attraction is its beautiful man-made beach with lovely soft sand imported from the Sahara. The beach has a gentle slope to the sea and is therefore ideal for young children. The majority of Puerto Rico is very hilly with more steps than you could ever count. It would therefore be unsuitable to those who are less mobile and to young children in buggies, unless you know exactly where you are staying. The resort also offers mini golf, floodlit tennis, water park, a bowling alley and two yacht harbours with a choice of many boat excursions like sport fishing and a pirate trip. The resort has great shops, bars and restaurants where most late-night entertainment takes place. The area of main shopping centre is a bit noisy but the beach area is very quiet.

Pricing and booking options
Mobility transfer (If you wish, by wheelchair) at the airports
Flight price depending on airport and the time of year from € 200,– till € 500,– per person
You are allowed to bring your own mobility equipment like wheelchair, Hand-Bike, etc.(max 2) and medical luggage up to 15 kg free of charge
(doctors declaration not older than 3 weeks needed)
Wheelchair Transfer for 1 – 4 persons from and to the airport to your hotel € 125,–
Stay in units with double bedroom, max 3 adults or 2 + 2 children 0 – 11,99 Y. (see table)
Half Board and All Inclusive is possible
24-Ours-hotline for trouble assistance at your holiday
Booking fees €25,-, airport tax and local tax