Hotel Sol ***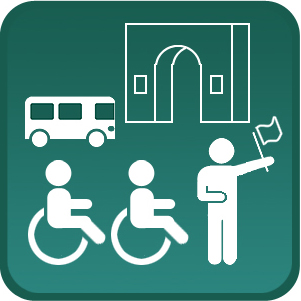 Features

Located directly on the beach promenade
4 swimming pools and entertainment
Good wheelchair and mobility scooter accessible
Rent of home care and mobility equipment
Playa Matagorda, Hotel Sol (max. 2 or 4 pers.)
The Sol Lanzarote hotel offers a peaceful beachfront location in Matagorda, next to Puerto del Carmen with plenty of entertainment and activities, just perfect for families.
Room description
The 117 suites and rooms with 5 accessible units are comfortably furnished and fitted a direct dial telephone, satellite/ cable TV, a stereo, internet access, a minibar/ fridge, a double bed, a hire safe and a balcony or terrace.
The bathroom from the 5 accessible units consists of a wheel-in-shower, toilet with grab rails and hairdryer. The apartments are also furnished with a separate bedroom and a kitchenette (not wheelchair accessible).
Meals
Guests are offered a buffet breakfast and dinner. At midday and in the evenings, guests may also select dishes from the menu or the all inclusive option.
Sports/Entertainment
Guests are offered use of the pool (through ramps), snack bar, sun loungers and parasols. The hotel offers opportunities to participate in aerobics sessions, archery, table tennis, beach volleyball, tennis, bocce, pool and bowling (some of which demand an additional fee). Outside the grounds, guests may take advantage of the diving opportunities. The hotel also offers an entertainment program to ensure that guests never experience a dull moment.
Advantages:
– Its location on the seafront
– The entertainment program

Services and other facilities
Swimming pool with ramp
Supermarket and shops
2 restaurants and bars
Wellness department
Internet corner and Wi-Fi in the open rooms
Laundry self-service
Several sports possibilities
About Accessibility:
Number of accessible units: 5
Room door width: 90 cm
Bed height: 50 cm
Distance floor/bed base: 20 cm
Bathroom door width: 80 cm
Toilet height: 37 cm
Advantages:
– Its location on the seafront
– The entertainment program
Optional accessories
Manual/Electric wheelchair
Scooter
Electric bed (incl. monkey pole and cotsides)
Electric hoist
Monkey pole
Cotsides
Air mattress (anti decubitus)
Shower/toiletchair (commode)
Raised toilet seat
Rollator / Walking frame
Home care
Home and medical care can be arranged.
Excursions and activities on Lanzarote
Timanafaya National Park (Fire Mountains):
Amazing experiments with the heat of the volcanoes and spectacular scenery on the coach tour in the park.
Green Caves:
Also part of the 7Km lava-tunnel of Monte Corona, these caves were once used to hide from slave-hunters and pirates.
Fundación César Manrique
The island´s most famous son created his living-space within 5 volcanic bubbles. The house is now a museum, and is a rare oasis of tranquility.
Jameos del Agua:
these water-caves, home to the blind albino crab, are a true jewel. Also the "House of the Volcanoes", where you can see active volcano-studies, is found here.
Haria:
"Valley of the thousand Palm Trees". Lunch-option in a beautifully restored farm with typically Canarian food.
Mirador de las Nieves:
The island´s highest point offers unique views of Lanzarote all the way to Fuerteventura. Although there is a lot to see there will be enough time to fully appreciate each sight.
Green Lake:
Probably the island´s most famous site as it is featured in many films. It´s breathtaking beauty makes a unique photo stop, not to mention the semi-precious stone Olivina that is found on the shores of this Green Crater lagoon.
Camel Ride:
The once in a lifetime experience is good fun for all ages. Time enough for whoever dares to ride, but not included in the fare (6 €/person approx.)
Los Hervideros:
An awesome struggle between lava and sea has shaped this incredible coastline where walkways and balconies were built to get you as close as possible.
Salinas del Janubio:
Salt is an important part of the island´s past but these salt beds still are fully operative.
Wine-tasting:
Try a free sample of local wine from the most unusual vineyards.

Pricing and booking options
Mobility transfer (If you wish, by wheelchair) at the airports
Flight price depending on airport and the time of year from € 200,– till € 500,– per person
You are allowed to bring your own mobility equipment like wheelchair, Hand-Bike, etc.(max 2) and medical luggage up to 15 kg free of charge
(doctors declaration not older than 3 weeks needed)
Wheelchair transfer for 1 – 4 persons from and to the airport to your hotel € 85,–
Stay in hotel room for 1 or 2 adults (see table)
24-Ours-hotline for trouble assistance at your holiday
Booking fees €25,-, airport tax and local tax