Aparthotel Cap de Mar ****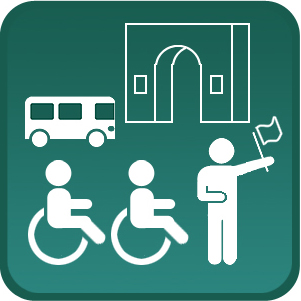 Features
Stands directly on the beach front and the promenade
Swimming pool with a hoist heated in may and october
Rent of home care and mobility equipment
Cala Bona, Hotel Cap de Mar (14 accessible suites for 1 till 3 Persons, open from 5 May till 1 November)
The Aparthotel Cap de Mar Suites lies in a terrific beachfront location – right on the promenade – a stroll from the harbour, where you will find shops, bars, cafés and restaurants. The complex has an impressive interior carefully designed with comfort and convience in mind and the suites have recently been refurnished with new furnishing for added comfort. For an extra touch of relaxation, the complex boasts a Thalassotherapy center offering a range of soothing beauty treatments. It consist of four small buildings offer 71 Suites (14 of them are accessible) that have just been fully refurnished and decorated.

General information
Tehe suites consist of a bedroom, a living room with sofa bed, a fridge, kettle, bathroom with amenities, balcony, LCD television, telephone, safety deposit box, central heating and air conditioning.
Outdoor swimming pool equipped with a hoist and indoor seawater swimming pool, buffet restaurant with show cooking and once a week Mallorquin Special Buffet, snack-pizzeria à la carte and bar cafeteria. An entertainment program includes a number of activities as well as live music, shows, etc. The hotel also offers an internet corner and WIFI (payable). In the Bar there is a large TV screen available for sport and social events.
Its renown Thalasso Therapy Center offers a wide range of treatments like Turkish bath, sauna, wellness, indoor swimming pool with sea water, Jacuzzi (heated in May and in October).

Suite information
The suites consist out of a living room with sofa bed, LCD television,telephone, central heating and air conditioning.
Kitchenette with a fridge, kettle and coffee machine
One bedroom with safety deposit box
Bathroom with amenities
Balcony
About Accessibility:
Number of accessible units: 14
Lift width and depth: 80×117 cm
Room door width: 90 cm
Bed height: 47 cm
Distance floor/bed base: 11 cm
Bathroom door width: 80 cm
Toilet height: 45 cm
Optional accessories
Manual/Electric wheelchair
Scooter
Electric bed (incl. monkey pole and cotsides)
Electric hoist
Monkey pole
Cotsides
Air mattress (anti decubitus)
Shower/toiletchair (commode)
Raised toilet seat
Rollator / Walking frame
Home care
Home and medical care can be arrange.
Excursions and activities on Mallorca
Take a Balloon Trip over Mallorca
Without a doubt, this is the very best way of seeing the island. Mallorca Balloons runs flights from March till October, operating eight balloons, one of which is listed in the Guinness Book of Records as the biggest balloon in Spain. Forget the pool, the sheer romance of floating 2,000 feet over such a magnificent coastline is virtually indescribable …
Discover the 300-year-old Mallorcan Breakfast
Breakfast is the most important meal of the day, and ensaïmadas have been the traditional breakfast pastry here since the 17th century. The ensaïmada has even been awarded protected regional food status by the EU. Forn Fondo on Calle Unió in Palma has been a bakery since 1911. Pau Llull is the fourth generation to run it. Who better to make your breakfast?
Taste the Finest Lamb in the World
Forget the glitzy restaurants on the coast, even the good ones. Follow UK's most down-to-earth celebrity chef, Rick Stein and head for the hills, specifically to Es Verger a little mountain restaurant near Castell d'Alaro, where he ate "the most succulent lamb I ever tasted", roasted over a wood fire.
Explore the Calas
This is a general instruction. A cala is a small cove, and the Mallorcan coast contains a charming string of them. Keep your eyes open for the road signs and you'll find some extraordinary little havens of tranquility. It's the slow way of exploring – but ever so rewarding.
Don't Miss Unique Fornalutx
If you stay by the coast you'll never see it, but Fornalutx is regarded by many as the most beautiful village on Mallorca, and one of the most stunning in Spain. You'll find it deep in the Sierra de Tramuntana, with winding streets, narrow stone steps, and flowers and greenery everywhere. Its houses are decorated with colourful painted tiles, some dating back to the 16th century.
Relive the Scandal of Valldemosa
It may be calm now, but in 1838 it became home-from-home for one of the biggest scandals to grip Paris that year: the affair between the pianist, Frederic Chopin, and the writer George Sand. To get away from it all, they rented a former monk's cell at the Royal Carthusian Monastery here. They ended up hating the place – but they did wonders for its holiday reputation.
Enjoy the Colour of San Telmo
Where the mountains meet the sea, less than ten minutes west of Puerto Andratx, you'll find San Telmo, a simple fishing village where the fishermen's houses line the sea's edge. It's protected a few hundred meters offshore by the island of La Dragonera, declared a natural reservation in 1985. You may never want to leave.
Studio Weill
Daniel Libeskind is one of the world's leading architects, who designed the iconic Jewish Museum in Berlin and was chosen to redevelop Ground Zero in New York. Not many people know, however, that overlooking the sea near Puerto Andratx he designed the home and studio where sculptor, Barbara Weill, has worked for 35 years. It's the only domestic project he's ever done, and already on the worldwide itinerary of curious architecture students.
Cap de Formentor
This is Mallorca's northernmost point and about as wild and wonderful as the landscape here gets, which is saying a lot. The sea views are quite stunning – but if you have a fear of heights, watch out.

General information
Time zone: GMT/UTC+1
Area: 3.560 Km2.
Coast line: 554,7 Km
Population: 846.210 inhabitants.
Official languages: Catalan and Spanish. English and German are widely spoken.
Currency: Euro €
Electricity: 220 volts
Average annual temperature: 18,7 ºC
Average annual sun hours: 2.957,7
Highest peak: Puig Major (1.432 m)

Pricing and booking options
Mobility transfer (If you wish, by wheelchair) at the airports
Flight price depending on airport and the time of year from € 200,– till € 500,– per person
You are allowed to bring your own mobility equipment like wheelchair, Hand-Bike, etc.(max 2) and medical luggage up to 15 kg free of charge
(doctors declaration not older than 3 weeks needed)
Wheelchair Transfer for 1 – 3 persons from and to the airport to your hotel € 242,–
Stay in Apartment, kitchen and bedroom with double bed for 1 till 3 Persons (see Table)
24-Ours-hotline for trouble assistance at your holiday
Booking fees €25,-, airport tax and local tax