Colonia Sant Jordi Club ****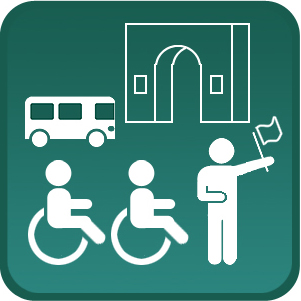 Features
Half board hotel at the beach front
Beautiful garden, patios, fountains and lakes
Swimming pool with ramp access and pool bar
Indoor Swimming pool with hoist (heated 1-10 till 15-5)
Rent of home care and mobility equipment
Es Trenc, Colonia Sant Jordi Club **** (5 accessible double bedrooms for 1 till 2 Persons, open from 30 January till 31 October)
The Resort & Spa is located near one of the most beautiful and well-preserved beaches in Mallorca, Es Trenc. Our hotel is built on 8 hectares of land. Resort & Spa offers 192 double rooms and 203 suite and suite select rooms spread out over two to three store buildings.
Numerous patios, tranquil gardens, fountains and beautiful lakes are located throughout the premises of Colonia Sant Jordi. Children will enjoy the large pine forest and special facilities designed especially for them. Discover our wide range of leisure and sports activities for adults. The Resort & Spa has ISO 14001 international certification showing our commitment to the environment and ISO 9001 for quality.

General information
Facilities
<
24 hour reception.
Free parking.
Bureau de change.
Car, moped and bicycle hire.
3 pools with 2 integrated fresh water children's pools and one big independent pool.
Splash Pool
Large terraced area and pine forest with sun-loungers.
Free towel use and exchange.
Indoor glazed heated pool overlooking the garden (from 1/10 to 15/05 each year).
Gym (from 16 years.
7 tennis clay courts (charge)
Spa (from 16 years)
From May 1 until October 31, free shuttle to the beach.
Laundry service.
Free WI-FI in lobby and lobby-bar
By Staying at any of our rooms, available for free
Fitness room access
Ping.Pong, Volley-ball, Mini-fultbol, Aerobic, Archery
Lessons of spanish for beginners
Exterior pool with Jacuzzi, Umbrella
Swimmnig-pool towels against deposit
Sauna, Turkish bath, (Heat Pool and Jacuzzi October-15th May)
Blaudiclub for children from 2 to 12 years old
Playground with games area
Dining
Choose from a wide selection of international dishes in our three buffet restaurant. The Resort & Spa offers a varied breakfast and dinner buffet. Look forward to our weekly Gala dinner with the best cuisine and a drink on the house. Discover the food of the island with our weekly Mallorcan specials dinner. Enjoy an appetising menu of snacks, pizzas, pasta, salads, meat, fish and desserts at Snack bar and Pizzeria. Our restaurant enjoys an unbeatable location surrounded by gardens and swimming pools.
The Resort & Spa offers an indoor Lobby-Bar Lounge for guests to relax and enjoy a drink. Enjoy piano or live music several nights per week. Unwind at the Tropical Snack-Bar terrace on summer nights with a live show. Our pool bar allows guests to enjoy refreshing drinks without getting out of the water.
*Please formality of dress for dinner.
Resort & Spa cultural activities include:
Daily shows at night
Periodical theme shows for children
Dance with a live band once a week
Local Folklore and Flamenco shows
Special Mini-Disco for children every night
Group Spanish classes for adults and children
Tennis courses for beginners and advanced (www.tennismallorca.net)
Horse riding just 500m from the hotel
windsurfing, sailing, catamarans and motorboat hire.
safe bicycle storage and bicycle hire.
Sport facilities include:
7 clay tennis courts (with charge).
Multi-purpose court for volleyball and five-a-side football
Splash Pool
Aerobics & Gymnastics and aqua aerobics with instructor
Bowls
Darts, archery and shooting.
Table tennis.
Fitness room with modern equipment
Spinning facilities
Enjoy the Oasis of calm
The Spa and wellness offers a wonderful atmosphere provides everything you need to escape from a hectic and stressful routine. Enjoy our new and extensive spa and fitness facilities where comfort and stylish aesthetics go hand in hand. Sauna facilities like Finnish sauna, Roman and Turkish steam room, lifestyle showers, fitness area, indoor pool, beauty center and hairdresser are waiting for you. Professional beauty team will let you top your body, heart and soul up with new energy. You will be pampered with Ayurveda treatments, massages, health programs, beauty treatments and hairdresser. Have a look at the menu and programs especially designed for you by Mallorca Wellness.

Room information
Room with two large beds, satellite TV, chair, table and WiFi
Air-conditioning, heating, ceiling fan
Safe, telephone and minibar
Bathrooms include bathrobes and designer toiletries
Balcony or terrace
About Accessibility:
Number of accessible double bedrooms: 5
Room door width: 72 cm
Bed height: 50 cm
Distance floor/bed base: 24 cm
Bathroom door width: 76 cm
Toilet and shower height: 48 cm
Optional accessories
Manual/Electric wheelchair
Scooter
Electric bed (incl. monkey pole and cotsides)
Electric hoist
Monkey pole
Cotsides
Air mattress (anti decubitus)
Shower/toiletchair (commode)
Raised toilet seat
Rollator / Walking frame
Home care
Home and medical care can be arrange.
Excursions and activities on Mallorca
Take a Balloon Trip over Mallorca
Without a doubt, this is the very best way of seeing the island. Mallorca Balloons runs flights from March till October, operating eight balloons, one of which is listed in the Guinness Book of Records as the biggest balloon in Spain. Forget the pool, the sheer romance of floating 2,000 feet over such a magnificent coastline is virtually indescribable …
Discover the 300-year-old Mallorcan Breakfast
Breakfast is the most important meal of the day, and ensaïmadas have been the traditional breakfast pastry here since the 17th century. The ensaïmada has even been awarded protected regional food status by the EU. Forn Fondo on Calle Unió in Palma has been a bakery since 1911. Pau Llull is the fourth generation to run it. Who better to make your breakfast?
Taste the Finest Lamb in the World
Forget the glitzy restaurants on the coast, even the good ones. Follow UK's most down-to-earth celebrity chef, Rick Stein and head for the hills, specifically to Es Verger a little mountain restaurant near Castell d'Alaro, where he ate "the most succulent lamb I ever tasted", roasted over a wood fire.
Explore the Calas
This is a general instruction. A cala is a small cove, and the Mallorcan coast contains a charming string of them. Keep your eyes open for the road signs and you'll find some extraordinary little havens of tranquility. It's the slow way of exploring – but ever so rewarding.
Don't Miss Unique Fornalutx
If you stay by the coast you'll never see it, but Fornalutx is regarded by many as the most beautiful village on Mallorca, and one of the most stunning in Spain. You'll find it deep in the Sierra de Tramuntana, with winding streets, narrow stone steps, and flowers and greenery everywhere. Its houses are decorated with colourful painted tiles, some dating back to the 16th century.
Relive the Scandal of Valldemosa
It may be calm now, but in 1838 it became home-from-home for one of the biggest scandals to grip Paris that year: the affair between the pianist, Frederic Chopin, and the writer George Sand. To get away from it all, they rented a former monk's cell at the Royal Carthusian Monastery here. They ended up hating the place – but they did wonders for its holiday reputation.
Enjoy the Colour of San Telmo
Where the mountains meet the sea, less than ten minutes west of Puerto Andratx, you'll find San Telmo, a simple fishing village where the fishermen's houses line the sea's edge. It's protected a few hundred meters offshore by the island of La Dragonera, declared a natural reservation in 1985. You may never want to leave.
Studio Weill
Daniel Libeskind is one of the world's leading architects, who designed the iconic Jewish Museum in Berlin and was chosen to redevelop Ground Zero in New York. Not many people know, however, that overlooking the sea near Puerto Andratx he designed the home and studio where sculptor, Barbara Weill, has worked for 35 years. It's the only domestic project he's ever done, and already on the worldwide itinerary of curious architecture students.
Cap de Formentor
This is Mallorca's northernmost point and about as wild and wonderful as the landscape here gets, which is saying a lot. The sea views are quite stunning – but if you have a fear of heights, watch out.

Pricing and booking options
Mobility transfer (If you wish, by wheelchair) at the airports
Flight price depending on airport and the time of year from € 200,– till € 500,– per person
You are allowed to bring your own mobility equipment like wheelchair, Hand-Bike, etc.(max 2) and medical luggage up to 15 kg free of charge
(doctors declaration not older than 3 weeks needed)
Wheelchair Transfer for 1 – 4 persons from and to the airport to your hotel € 242,–
Stay in room for 1 till 2 Persons (see Table)
24-Ours-hotline for trouble assistance at your holiday
Booking fees €25,-, airport tax and local tax